Orlando is becoming quite well known for the local places to eat. I have many favorites around town, but my tried and true favorite is Tijuana Flats. Many people may not know this, but Tijuana Flats actually originated here in the Orlando area – Winter Park to be exact, and has been a local favorite for almost 20 years.




Disclaimer: We received a free meal in order to facilitate our review


Tijuana Flats opened in 1995 in Winter Park, FL by UCF student, Brian Wheeler. Not only did he start his own restaurant from scratch despite having never worked in one, but he created his own line of hot sauces too – "Smack My Ass & Call Me Sally," which includes some of the hottest sauces in the world. In addition to amazing food, Tijuana Flats also gives back to the community with their Just in Queso foundation, which has given over $2 Million to date to those in need. What once was just a local favorite can now be had at over 100 restaurants in 6 lucky states.



No meal at Tijuana Flats can be had without the Tijuana Trio. It includes a big basket of their chips along with cups of their queso, guacamole, and salsa. There are many days that I wish I could just live off of their chips and queso alone.






They have so many different meal options that it's hard to settle on just one. If you're in the mood for something fried, you have to try their flautas. It comes with two lightly fried flour or wheat tortillas, cheese, and choice of filling and is served with queso, guacamole, toppings. I really love the chicken ones, but my husband prefers the beef.






Tijuana Flats burritos are big and filling, so make sure to be hungry if you order one of these. I decided to go for some heat with my burrito and ordered their Bangin' Chicken Burrito. It comes with crispy chicken, Smack My Ass Bangin' Chicken Sauce, grilled onions, green peppers, tomoatoes, cheese, and ranch dressing. This had some seriously great flavor with the right amount of heat.






You can certainly never go wrong with a good taco. You can order them in hard corn, soft flour, or wheat tortillas with cheese and your choice of filling and toping. They have some amazing Mahi tacos and have special "pink tacos" to support breast cancer awareness during the month of October.






I cannot have a meal at Tijuana Flats without having their Cookie Dough Flautas. This is quite possibly the most heavenly dessert and it's hard to eat just one. There's warm delicious chocolate chip cookie dough in a flour tortilla, lightly fried, topped with powdered sugar and served with a side of chocolate syrup for dipping. I definitely had to pry the last one out of my husband's hand as I just had to have it.



Tijuana Flats has amazing food, a fun atmosphere, and awesome staff. All of their meals are made to order using the freshest ingredients – they have no freezers, no microwaves, and never use canned foods. They offer vegetarian options, have hormone-free chicken, pork, and steak, and use ZERO trans-fat cooking oil. They have many locations around the Central Florida area and are perfect for a quick lunch or dinner.



Tips for Your Visit: They run different specials throughout the week including Taco Tuesdaze with includes two tacos, chips, and a drink for $5.49 + tax and Throwback Thursdaze which includes a Tijuana burrito, chips, and a drink for $5.99 + tax. Hemp tortillas are also back for a limited time only.




Date of Visit: August 2015
Destination website: http://tijuanaflats.com
---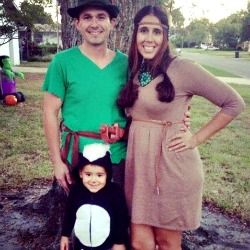 A lover of desserts, symmetry, and cats, Danielle is a true Orlando native. Born and raised in Orlando, Danielle and her husband Michael decided to move back to her hometown and begin a family after they graduated from the University of Florida (Go Gators). They are now parents to an orange and white cat named Thomas O'Malley and a very rambunctious 3 year old. Danielle is a stay at home mom and spends many of her days at Disney with her son. In her free time, when Danielle is not chasing after a toddler, she can often be found with her nose in a good book, running, or writing over at her blog From Girlie to Nerdy.