Glazer Children's Museum, Tampa



A quick drive down I4 will have you in the Tampa area in around 60 minutes, making it just close enough to stop by Tampa's Glazer Children's Museum. While Tampa has had a children's museum since 1987, this is the 5th anniversary of it operating as Glazer Children's Museum. With 3 levels full of hands-on activities, this is a must do when in the Orlando, Tampa, or Central Florida area.








We visited earlier this year when the traveling Wizard of Oz experience first opened. My son enjoyed the play areas for this exhibit, as there were many, but I think I enjoyed it more. Being able to see the Ruby Red Slippers up close, as well as playing in a themed area after one of my favorite movies, was nothing short of awesome.








The second floor is where we spent most of our time. My son simply couldn't get enough of the Safety Village area. This features a pretend Publix Supermarket, vet clinic, hospital, Outback Café, firehouse, and Central Bank. All of these areas are perfect for young imaginations. My son cared for animals and gave them checkups at the vet clinic, scanned groceries at Publix, and got to go down a fire pole dressed like a fireman. He would've stayed in this area the entire visit if we didn't tell him about all of the other great things to see and do.








The first floor has a water theme. The little ones can play in Tugboat Tots where they can pretend to fish or be a captain of a tugboat. My 3 year old really enjoyed the Kidsport area with squiring and playing with water. He loved driving the cruise-ship as well.



Highlights for Children: This is the perfect place for kids. With so many exhibits to explore and learn about along with themed areas good for children of all ages, your kids will want to come visit often.



Highlights for Adults: Kids aren't the only ones that enjoy learning – parents do too. I got to see and do a lot with my son and it was great to do things together. However, there are plenty of benches to sit and watch your children play.



Tips for Your Visit: We could easily spend an entire afternoon here, possibly the whole day, so budget enough time to see and do what the museum has to offer. There are always events happening at the museum, so be sure to check their calendar for what's going on. There is a Subway located on the first floor, which makes for a perfect place to eat lunch. Babies are welcome too with stroller parking near the exhibits and a nursing room on the second floor.





Make it Brainy: Glazer Children's Museum is the definition of brainy. There is so much to learn, see and do while visiting, making this an educational experience for kids and adults alike.



Date of Visit: February 2015
Destination website: http://glazermuseum.org
Street address: 110 W. Gasparilla Plaza Tampa, FL 33602
Phone number: 813-443-3861
General admission price: Children under 1: Free, Children ages 1-12: $9.50, Adults $15, Military, Teachers, and Seniors: $12.50 *Note, parking is located in a paid parking garage
---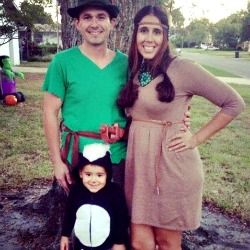 A lover of desserts, symmetry, and cats, Danielle is a true Orlando native. Born and raised in Orlando, Danielle and her husband Michael decided to move back to her hometown and begin a family after they graduated from the University of Florida (Go Gators). They are now parents to an orange and white cat named Thomas O'Malley and a very rambunctious 3 year old. Danielle is a stay at home mom and spends many of her days at Disney with her son. In her free time, when Danielle is not chasing after a toddler, she can often be found with her nose in a good book, running, or writing over at her blog From Girlie to Nerdy.