Paramount Fine Foods Orlando



I love to try different kinds of cuisines. I feel that you can really get to know an area or culture through their food. Middle Eastern food is one of my favorite types of food to eat. All of the great meats and delicious desserts make it truly hard to beat. I was so excited to eat at Paramount Fine Foods Orlando, which serves Lebanese food.



Located in the I-Drive 360 area, Paramount Fine Foods shares the most authentic Lebanese recipes that have been passed down for generations. All of their food is made fresh on location. They had a wood-burning oven that makes pita breads and pizzas along with a charcoal grill, live fire grill, and a bakery.



The coolest part about their kitchen, however, is the robot that cuts the shawarma. This amazing piece of equipment cuts the meat at a precise thickness ensuring that each piece is perfect. The meat is cooked as it spins and the machine slices as it rotates around.







Speaking of meat, all of the meat is Halal, meaning the meat has been prepared according to Islamic guidelines. Paramount Fine Foods partners with the farms and slaughterhouses, ensuring their meats come from farm to table. They even have their own butcher shop, which is open to the public.



Their menu has so many items, including meat and vegetarian options. I tried a variety of foods they offer and thoroughly enjoyed everything. The hummus is always a great way to start the meal and the moutabbal, which is grilled eggplant with tahini sauce and olive oil has a refreshing flavor.



They offer sandwiches and main courses as well as family platters. The portion sizes there are quite large and are perfect for sharing. Ordering the family platters seems to be the best way to get to try a bit of everything, but no matter what you get, be sure to try their shawarma.







After eating all of their main offerings, I had to try a bit of everything from the bakery. Kinafe is one of my favorite desserts and it's a must have – it's shredded dough with a sugar syrup on top. There's also a variation, Osmalieh, that's made with Kinafe dough and stuffed with ashta cream. I've never had ashta cream before, but it has a hint of rose water and is absolutely heavenly.







I cannot wait to go back to Paramount Fine Foods with my friends and family to share a meal. The décor is beautiful and feels like you're in a fine dining restaurant, but with a family friend atmosphere. The food is wonderful and there's sure to be something that everyone will enjoy.







Tips for Your Visit: There's a large parking garage with free parking right next to it. It's located in I-Drive 360, so after dining you can shop and walk the area. They have a children's play area inside of the restaurant, so after eating children have a place to play.
Date of Visit: September 2015
Destination website: http://paramountfinefoodsusa.com/
Address: 8371 International Drive Orlando, FL 32819
Phone: 407-930-8645
Hours: Sunday-Thursday 11am – 12am, Friday & Saturday 11am – 1am
---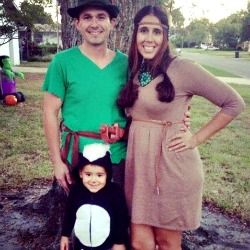 A lover of desserts, symmetry, and cats, Danielle is a true Orlando native. Born and
raised in Orlando, Danielle and her husband Michael decided to move back to her hometown and begin a family after they graduated from the University of Florida (Go Gators). They are now parents to an orange and white cat named Thomas O'Malley and a very rambunctious 3 year old. Danielle is a stay at home mom and spends many of her days at Disney with her son. In her free time, when Danielle is not chasing after a toddler, she can often be found with her nose in a good book, running, or writing over at her blog From Girlie to Nerdy.