Shake Shack Orlando, I-Drive 360
Chances are if you love a good burger, you've heard of Shake Shack. I remember hearing stories about the one in NYC and was ecstatic when news broke that they would be opening a location in Orlando. I anxiously awaited the Winter Park location to open and was thoroughly impressed by how simple, yet delicious their food was. Apparently us Central Florida people loved it enough that they decided to give us another Shake Shack, which just opened on International Drive.



Shake Shack started in 2001 as a hot dog cart in Madison Square Park in Manhattan where patrons lined up daily for three straight summers. In 2004 they opened a permanent kiosk in the park. They serve delicious burgers, hot dogs, frozen custards, shakes, and my personal favorite, cheese fries. Their food is fresh and simple, yet high quality and will always have you coming back for more.




When you order from Shake Shack, you can watch everything being made as their kitchen is open and has a large glass window where you can watch. It's amazing how quickly they can get out all of the orders, as it's usually quite busy. While you wait for your food, they have a tabletop curling game to keep you entertained.



Their burgers are simply amazing. They're made from 100% all-natural Angus beef with no hormones or antibiotics. It's freshly ground and cooked medium unless otherwise requested. Getting the ShakeSauce is a must and they do usually have a specialty burger as well.



They also have some other great hot items including their 100% all-natural hot dogs and their crinkle cut fries. I always get my fries with their special blended cheese sauce, since in my opinion you can never have too much cheese.



The shakes are always good, but their Concretes are on a whole different level. They take frozen custard and blend it at high speed with mix-ins. The Eye Drive, which I ordered and loved, has vanilla custard, peanut butter sauce, chocolate toffee, and chocolate sprinkles. 5% of sales from this Concrete support a local charity, A Gift for Music. You can also design your own concrete.




Shake Shack has fresh made lemonade and serves beer and wine in addition to fountain drinks. They even have treats for your dog as well including the Bag O' Bones with ShackBurger dog biscuits.



Shake Shack is often filled with customers, and with good reason. Their food is so fresh and delicious and they have something everyone will love. The restaurant has a very relaxed, modern vibe, and is the perfect place to enjoy lunch, dinner, or even a late night snack. Be sure to check out their newest location on International Drive.



Tips for Your Visit: There's a large parking garage with free parking directly behind the Shake Shack. It's located in I-Drive 360, near shopping and entertainment so you can dine and hang out in the area. They typically change up their custard flavor, so be sure to check out eh Custard Calendar.



Date of Visit: August 2015
Destination website: http://shakeshack.com
Address: 8359 International Drive Orlando, FL 32819
Phone: 407-205-0362
Hours: Sunday-Thursday 11am – 11pm, Friday & Saturday 11am – 12am
---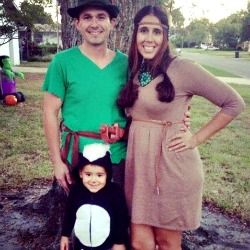 A lover of desserts, symmetry, and cats, Danielle is a true Orlando native. Born and raised in Orlando, Danielle and her husband Michael decided to move back to her hometown and begin a family after they graduated from the University of Florida (Go Gators). They are now parents to an orange and white cat named Thomas O'Malley and a very rambunctious 3 year old. Danielle is a stay at home mom and spends many of her days at Disney with her son. In her free time, when Danielle is not chasing after a toddler, she can often be found with her nose in a good book, running, or writing over at her blog From Girlie to Nerdy. Danielle is the senior food editor for The Brainy Tourist.